THE

4 PHASES OF AURONOVO'S WORK SOLUTIONS PROGRAM
Prevention through education
• We educate on injury prevention
• We institute a culture of safety
• We provide sustained engagement from management to employees
Early intervention
• We provide rapid response to work injuries
• We provide quick evaluation and treatment
• Which keeps workers on the job
Diagnostic and treatment
• We determine if the injury requires WCB
• If it doesn't we provide the tools to return to work
• If it does we do the work of setting up the WCB claim
Rehab and return to work
• We provide rehabilitation treatment to get your employees back to work
• We set up a return to work planning meeting with all parties
• With the end goal of a successful and safe return to work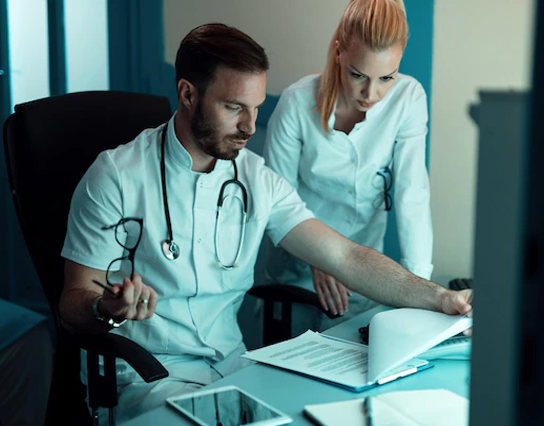 Effective

Onsite Solutions
Prevent or Identify Minor Issues Before They Become Major Ones with Early Intervention:
By properly educating your workers on proper body mechanics and injury prevention, Auronovo Physical Therapy can help prevent or identify issues before they have the chance to develop into major ones, which could cost your company or business a lot of money. We'll also identify situations or stressors in your workplace which can be addressed so they no longer possess the potential to cause harm.
Proactively Tackle Employee Health Concerns with Health and Wellness Education:
Having a healthy workforce is paramount to having a successful and high-performing company. If your employees are consistently sick or suffering from physical issues brought on by poor lifestyle choices, it's hard for your business to be productive and reliable. That's why we believe broad based health and wellness education plays a vital role in maintaining and encouraging employees to live a healthy, productive life both at work and home. Our wellness education includes diabetes and hypertension prevention, smoking cessation, healthy weight loss solutions, nutrition, and more.
Reduce Healthcare and Disability Costs and Save Time While Allowing Injured Workers to Access Immediate Care with an Onsite Clinic:
With an onsite clinic from Auronovo Physical Therapy your injured workers can get the treatment they need when they need it. This fast and efficient physiotherapy service allows employers to maximize their employees' productivity while cutting down on travel and wait times. It also provides a high return on investment by reducing healthcare and disability costs.
Stop Injuries Before They Happen with an Ergonomics Assessment:
Most injuries that happen in a workplace are the result of a poor ergonomic setup. By studying and evaluating how your employees do their work and the setting they do it in, Auronovo Physical Therapy can stop most workplace injuries before they even happen. This includes injuries like falls, repetitively straining joints, carpal tunnel syndrome, eye strain, and headaches. Our philosophy is to adapt the work environment to best suit the worker, rather than making the worker suit the environment. An ergonomics assessment from Auronovo Physical Therapy will make that happen.
Comprehensive

Employee Testing
Ensure Your New Employees Can Handle the Rigours of Their Future Job with Pre-Employment and Post-Offer Employment Testing (POET):
Auronovo Physical Therapy can provide assessment protocols that measure a potential candidate's ability to perform the physical demands of the job they're seeking. By doing so, we're able to confirm the new hire can execute the physical requirements of their job while reducing their likelihood of injury which results in you, the employer, cutting down on disability costs.
Understand Exactly What Your Employees' Work Will Require with a Physical Demand Analysis (PDA):
Sometimes as an employer you don't fully understand the physical demands your workers will be subject to. This could be because a new position has been created in your company, or a previous one has been modified. A PDA from Auronovo Physical Therapy comprehensively determines the amount of weight lifting/handling, movement patterns, and repetitions a given job requires. By knowing this information you can evaluate and document the essential physical demands of a job, helping you educate current employees better while also providing you with the appropriate guidelines needed when considering candidates for a job. A documented PDA will also assist physicians in determining the work-related restrictions for an injured employee.
Help Your Employees Safely Return to Work with Return to Work Testing (RWT):
If your employee has been away from work due to an injury it's important that you make their return as safe as possible. Not doing so could result in the worker re-injuring themselves, which could cost you disability payments and a loss of productivity. Auronovo Physical Therapy can conduct RWT to determine an employee's readiness to return to the job, or the necessary modifications needed once they do return.
Help Accommodate Injured Workers with a Functional Capacity Evaluation (FCE):
An FCE is an objective, third-party assessment of an individual's ability to perform the activities associated with daily living, as well as any tasks related to their job performance both pre and post disability. By conducting an FCE the employer and employee will have definitive answers to the questions that arise out of physical disabilities or difficulties. These include things like what the client's functional abilities and restrictions are, their employability based upon demonstrated functional abilities, and their capacity to sustain employment either on a full-time or part-time basis. This scientifically impartial assessment allows employers to accommodate workers or transition them into a new role or position more easily.
This Program Includes:
Physical and cardiopulmonary re-conditioning
Intensive strengthening and stretching exercise protocols
Mobility and flexibility enhancement exercises and job specific stabilization programs
Training and/or modification of daily living activities
Educating patients on differentiating between hurt and harm and pain and soreness
Educating patients on injury prevention and health and wellness
Educating patients on self-managing their pain and working safely
Improving the patient's physical tolerance of essential job functions